Where to Stay in O'ahu
    Have you ever been to O'ahu? It is one of the best Hawaiian destinations. Even though it's a populous island, it captures the hearts of many people from all across the globe. If you are fond of spending your vacation relaxing on beaches, O'ahu can give you an indelible experience. Hawaii is the best place to appease your wanderlust! Here is the complete guide to enlighten you the places where you should stay in O'ahu.
The Waikiki Beach
        The Waikiki beach is the most visited part of the island. It is situated in the south shore of O'ahu in the city of Honolulu. Waikiki is considered the island tourists' hub where you'll find numerous shops and restaurants. Though, it's flooded with people, it's endeared by most tourists due to stunning views and exciting sport activities!
    Tourists love to stay near Waikiki beach because you can find hotels as per your budget. Since there are enormous hotels, they offer a competitive price range. In the Waikiki area you can spend your vacation visiting museums, historical and cultural sites, and much more. You don't need a car to get around either. If you want to take a stroll around the city, you can use the economical bus system. In addition, if fond of shopping you must visit the Ala Moana Shopping Center; the largest outdoor mall in the world. There you can find everything from normal-range clothes to branded and luxurious clothes.
      There are so many hotels on the Waikiki beach where you can hire a room at affordable prices such as Coconut Waikiki hotel, Ala Moana hotel, Hilton Hawaiian village, Hotel Renew, Hyatt Regency Waikiki Resort & Spa, Equus Hotel, Aqua Bamboo Waikiki, Aqua Palms Waikiki, The Surfjack hotel, Turtle Bay resort, Aulani, and many more.
Ilima Hotel 
The Ilima Hotel is one of the most booked hotels in the Waikiki area. It is within a walking distance from the Honolulu Zoo and the Waikiki aquarium. If you are looking for a decent hotel this is it! Don't look any further as it is relatively cheap compared to many others in the area.
The Leeward Coast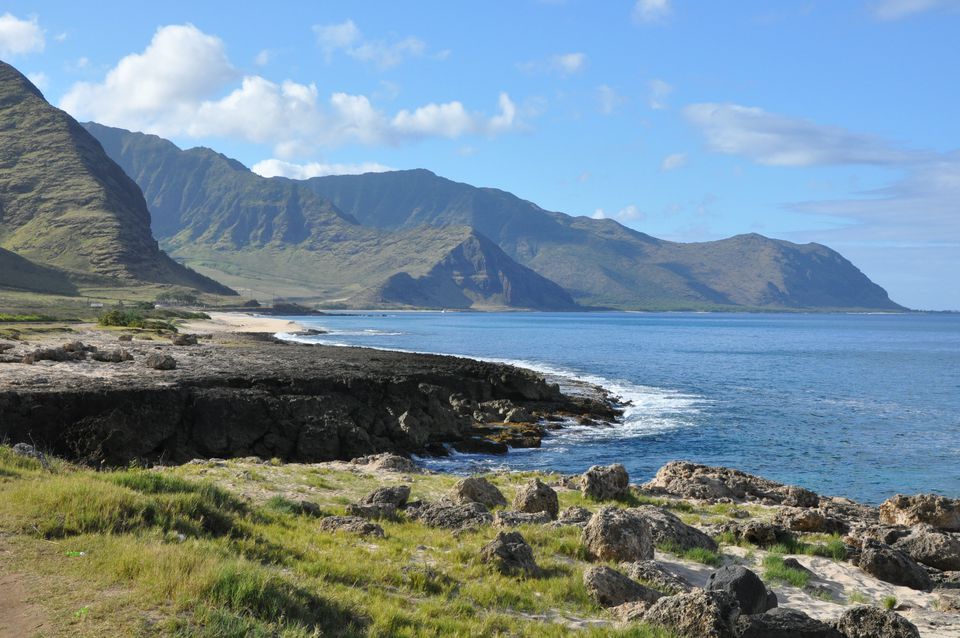 Another part of the island to enjoy is Leeward Coast located on the west side of O'ahu. It's hardly 25 miles away from the Waikiki beach. The climate is generally dry and sunny. Plunge into water and cool your body and mind. Visit in winter months if you love to do surfing. Snorkeling and fishing sport activities also draw attention of tourists. Apart from basking in the Sun, visit nearby museums and dive into the history of Hawaii culture.
If you don't like a crowded beach, the Leeward coast is the best part of the island to visit. There are lots of accommodations that you can find at affordable prices. Including the following:
Marriott's Ko Olina Beach Club
This hotel will be the perfect choice to be under a spell with the beguiling views of the Pacific Ocean. You can find comfortable guests rooms. Featured with swimming pools, Jacuzzis, bar, a fitness center, and massage services; you can spend your day relaxing. You can also visit Ko Olina Golf Club on western shore. Enjoy your meal from a variety of casual and fine-dining restaurants.
The Coconut Plantation Residences

Inspired by historical charm, the Coconut Plantation residences will provide you with over 60 cottages and 200 villas for accommodations. Since it is also located in the Ko Olina Resort, you have access to the lagoons, ocean, and golf course.
Ko Olina Hillside Villas

The Ko Olina Hillside Villas are perfect for you if you want hiking and walking trails. These residential units also feature the closeness of golf course and the marina. There are several other hotels, too such as Makaha Resort, Kai Lani, and many more.
The North Shore
Oahu's north shore is also eminent among tourists. It has lots of things to explore; you can never get bored of visiting this shore. If you love surfing the best time to visit north shore is between November and February. Between May and September, waves subdued and create a tranquil atmosphere for swimming and relaxing. It takes approximately a one hour drive from the Waikiki beach. The north shore is also home to a variety of accommodation options, including condo rentals and beachside Turtle Bay Resort. Including the following:
Turtle Bay Resort

If you are a honeymoon couple, this is the best spot to spend holidays. You don't need to shell out money on packages. The resort will offer you a variety of packages including spa, culinary, and golf packages. You can also rent out beach cottages and ocean villas if you are looking for an island atmosphere all the time. They are more affordable than resort's rooms.
The Sunset Beach House
 This will help you to save more bucks. It is equipped with amenities such as free Wi-Fi, calls, spa etc. North shore is sought after in winter season. During Christmas, prices go up.
Chuns Reef Beach Estate House
 
This is exalted among daredevils in the North O'ahu Shore. Booking at least six months earlier can cast a lot of difference in your budget. The home is located directly in the Chuns Reef Beach.
Airbnb (ALL OVER HAWAII)