Let's go Hiking in O'ahu
Hawaii is one of the biggest tourist destinations attracting approximately 64 billion tourists annually. It's affordability, beautiful beaches, adventure sports and outdoor activities make it a great place for a holiday.
Honolulu is the largest metro and is on the southeast coast of O'ahu which also happens to be the state capital. Also known as the gathering place as it's one of the most populated islands and covers an area of approximately 596.7 square miles.
It is the third largest Hawaiian island and is surrounded by islands such as the Ford Island and the islands of Kaneohe Bay. This island is also home to two separate shield volcanoes – Waianae and Koolau Ranges. Ka'ala in the Waianae Range, rising to 4,003 feet (1,220 m) above sea level is the highest range.
Hiking options around O'ahu
Haiku stairs (Stairway to Heaven)
Haiku Stairs also referred to as stairway to heaven with 3,922 stairs is believed to one of the biggest attractions. It is not for the faint-hearted as it is on a vertical incline and you only have a hand rail to catch on.
These stairs were built and used by the US navy in 1942 to send radio signals to sailing ships. The hike is 4000 ft long and has an 18-inch wide staircase with heights of above 2000 ft.
Even though the state of Honolulu spent a lot of money to repair the stairs, it has been closed to public since 2002 due to safety concerns. However, you can go past a guard at the entrance to see the steep climb but be warned you could be fined!
This hike can take you anything from 4-6 hours to complete and cost tourists anything between $50-$100.
Kaau Crater Hike
If you are looking to be enchanted, look no further than the Kaau Crater Hike. This trail includes 3 waterfalls, a desolate crater and a perilous peak. You could even find yourself rope hopping!
Initially, you might find yourself going through a jungle and struggling for survival but as you slowly move in you find the trail getting steeper as the mud thickens.
It is a tiring trail but you do find pit stops along the way where you can find opportunities to eat and stretch your legs.
This hiking experience can take you anywhere from 6-7 hours to finish. It is recommended you do this with a group to keep you motivated.
Seven Falls Hike
This hike is for you if you like adventure and playing with water! You will find yourself walking through water and climbing rocks and as it becomes narrower you can climb up the waterfalls with ropes.
Pali Notches (Olomana Trail)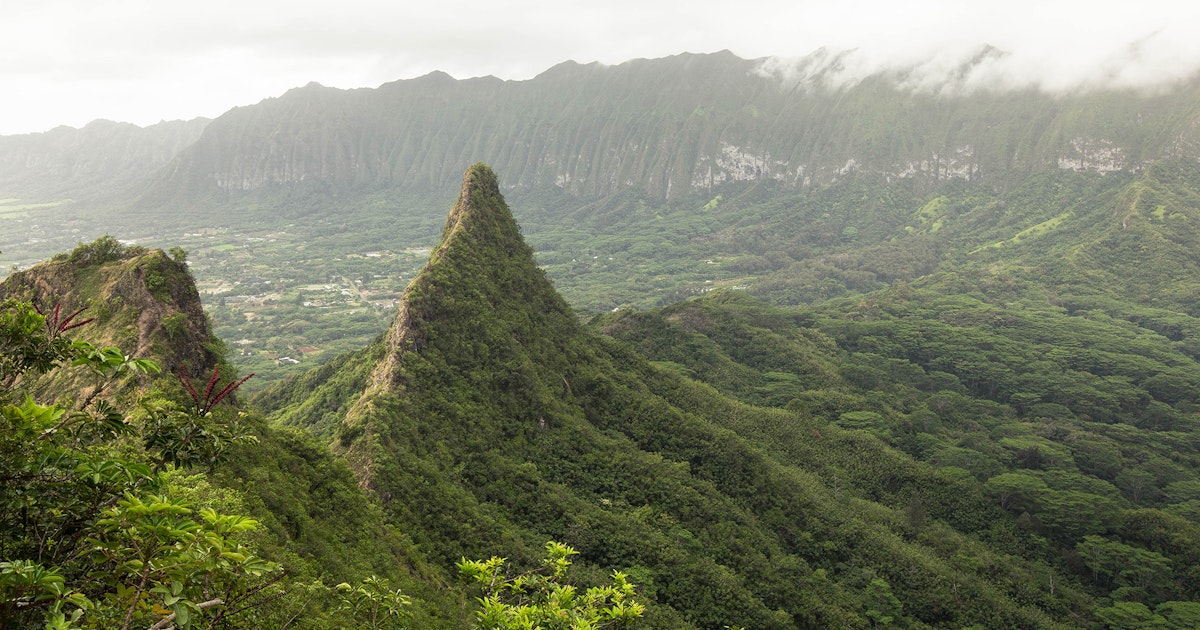 This is famous for being the most dangerous hikes in Oahu and many people have faced life threatening situations. The second and third peaks prove to be a challenge and test your confidence in heights. Do not attempt to test your skills on a rainy day! However, on a dry day you will experience a magical view.
This trail includes you navigating through Hau trees which open into an incredible view of the Pali highway and Kaneohe. As it is a windy trail and gets even windier as you gain elevation, one has to be very careful about their movements while walking.
After completing the first notch itself you will notice the ridge trail gets narrow, about 2 ft and the difficulty level increases. The second notch is where people experience most trouble and that's due to the fact that is has un-sturdy hand holds. You need to combat the strong wind factor here as well by staying close to the wall.  After completing the second notch begins a vertical climb but you are promised a breath-taking view once you reach the top of the rock formation. Make sure you have strong and lasting shoes, a rope, water and a sunscreen!
This hike is considered extremely dangerous and hikers have been reported dead. So try it at your own risk.
Tom Tom Trail (Makapuu hike)
This trail gives you a great experience of the sunrise in Oahu and out of the world views. This is one of the most underrated hikes!
This trail starts from the Makapu'u lookout and is probably 3-4 miles! Initially, it may seem difficult but as you get used to it you can enjoy the views along with a dolphin show at the Sea Life Park. This hike is definitely one that is picturesque but nevertheless you need to be careful if you are getting too close to the edge.
Wiliwilinui Ridge
This trail is at an altitude of 2,480ft and offers a peaceful, less crowded experience. At this hike you are over-looking Kailua and Lanikai and if you turn back in the direction you came you can see Waikiki, Koko Crater and Diamond head. Along the way you will find many scenic views which will be a great addition to your photo albums.
Koko Head Stairs
Diamond Head and Lanikai Pillboxes are fairly easy trails in comparison to the Koko Head stairs. This hike is for the experienced and athletic ones!
The altitude is 690 ft and a distance of 1.4 miles in total. There are 1,048 steps until you reach the look-out points. The stairs are not even and are almost double the size of a normal stair.
This hike gets steeper and steeper but we assured as you higher and higher you see some wonderful views. Once you have reached the top and enjoyed the views you need to careful on your way back down as that is the only back. Just hope it is not a rainy day.
Maili Pillbox Hike
At 700 ft, the pink pillbox hike is surrounded by breath taking views and the sound of crashing waves on the west side of Oahu.
This hike offers different route options, a challenging route and also a kid friendly option. It is also not as crowded as other trails around.
Crouching Lion Hike
From the very start this hike is steep and works up a sweat! You might find slippery parts but also thick vegetation which stabilizes the trail. It offers scenic views of the Kahana Bay, the quaint town of Kaaawa and the cliffs of Pu'u Manamana.
At an altitude of 200ft and about 4 miles in distance, you can enjoy the rocky climb along with enjoying some lovely views and yoga sessions along the way!
These were just a few hikes around O'ahu and please be assured there are many more!
 In order to gain most of your hiking experience in O'ahu, you will need to make sure have enough experience and knowledge about the same. Just to narrow it down for you can choose your hike based on the level of difficulty. For example, for an easy hike you can consider the "koko crater hike"; for the intermediate – "the crouching lion hike" and if you are daring and want an advanced level hike you can consider going for the haiku stairs.
Good luck and hope you have a great hiking experience!